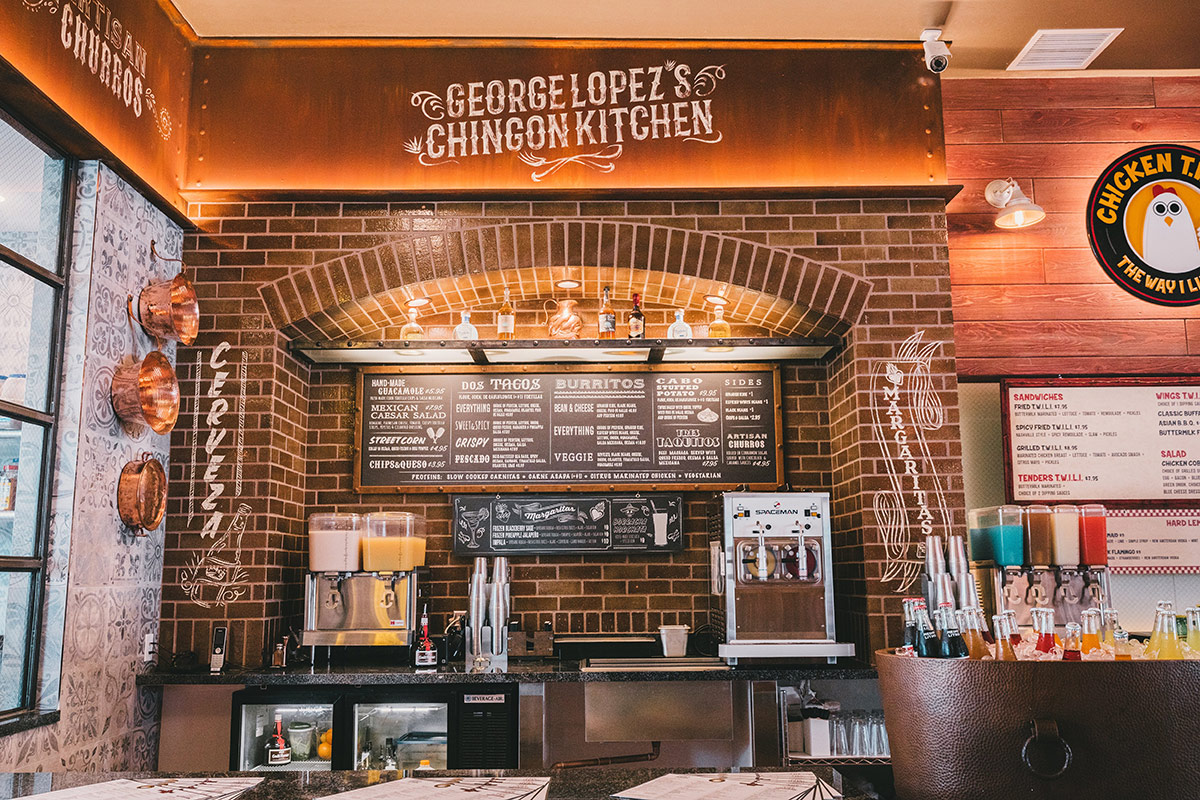 George Lopez's recently launched and successful food and beverage empire is seriously good, all comedy aside.
The native Angeleno's recently launched successful food and beverage empire is seriously good, all comedy aside.
When comedian George Lopez describes Benita Gutierrez, a factory worker and the tough maternal grandmother who raised him in the San Fernando Valley and helped mold his sense of humor, he says she was like a sour patch kid – a little mind blowing at the first bite, but the sweetness always set in soon after.
For someone who was afraid of his own shadow as a child, Lopez has fearlessly taken on and succeeded in two of the most challenging businesses there are – stand up comedy and food and beverage – both of which yield the same results, a smile on somebody's face.
He hints that he's ready to hang up his mic, as the pandemic has allowed him to devote time to his three Chingon restaurants and the release of his first four Ta Loco Cervezas from George Lopez Brewing Co. He recently launched a line of Chingon Kitchen carne asada and pollo asado prepared meals inspired by his abuela, now available at all Southern California Food4Less, Superior Grocers and Cardenas Markets locations.
"My grandmother was not a joyful woman," Lopez tells L.A. Weekly on a Zoom call from his home in the Coachella Valley. "I don't think she really understood life or the joy in life. She worked during the day and then came home and cooked for me and my grandfather. She'd always make homemade tortillas. I remember she used a wooden rolling pin. One day I heard a lot of swearing in the kitchen and she made my grandfather go out and get her a piece of scrap metal about a foot long and used it to make tortillas because she said the masa dough would stick to the wood, but not the metal. She used that metal rolling pin from a Northridge construction site for the rest of her life."
Those tortillas left an indelible mark on the basis of the Chingon Kitchen. Lopez has been a day-to-day fixture in the development of recipes, getting inspiration from his grandmother's marinades using Squirt, root beer, beer, grapefruits and blood oranges.
"Everything starts with the tortilla," says Lopez. "If that's not good, nothing that touches it is going to be good. I learned that in the kitchen of a small tract home in Mission Hills a long time ago. She'd make picadillo, which is like a stew made out of ground beef, onions, tomatoes and cilantro. She'd make fideo with angel hair pasta and Spanish rice with no peas. The rice was made with chicken broth she boiled for hours. She made the beans with bacon."
Both the Chingon Kitchen collection of family inspired dishes and his cervezas are available on tap at the Brews Hall in Torrance, featuring the Paloma (a citrusy IPA inspired by the paloma cocktail), the Agria Fresca (a tart Gose) and the sweet Suavecito Stout with chocolate and caramel notes.
"My beer's got a nice kick to it," says the former Little Leaguer and San Fernando High School student. "My experience with beer growing up was Moosehead, Foster's, Schlitz Malt Liquor Bull and one of my buddy Eddie Van Halen's favorites, Colt 45."
With the help of Stone Brewery he's refined his palate, looking for a beer that tastes more like a 50/50 bar or an orange creamsicle than a Mickey's Big Mouth, plus insists on drinking from a nicely chilled glass.
In addition to the Brews Hall location, Chingon Kitchen can be found in the San Manuel Rockin Casino in Highland, California and Vee Quiva in Arizona. Fresh and unfussy, the tacos come in choices of crispy and soft, corn, flour and cauliflower tortillas with various proteins like melt-in-your-mouth tender carnitas or soyrizo. The street corn has a sweet and creamy snap to it, the black beans mimic a rich soup and in keeping with tradition, no peas in the red Spanish rice.
There is also a selection of margaritas, like frozen blackberry sage and frozen pineapple jalapeno as well as house made horchata with spiced rum. Lopez says Mexican food is comfort food – nothing designer about it. He bristles at those who try to elevate it to something it's not at an inflated price, and feels consistent quality of the ingredients will bring customers back for an encore.
While the success of his food empire has shot up like a rocket, the comedy business that he has  used as a coping mechanism since childhood during tough times has fizzled. In an age of political correctness and cancel culture, it's getting harder and harder to be funny. 
"I've been at it for about 40 years and this past year has given me my first chance to have any extended time off and reflect. In comedy, I'm kind of ready to wrap it up. These last three years weren't what I expected towards the end. It has become very limiting for comedians. In the food world, people don't come with an ax to grind or a bone to pick, they come to try things. If they like it, they come back. I was really angry in the late '90s and kept wondering what kept making me this upset. I was spending my time worrying about what other people were doing. Then one New Years Eve I decided I was going to spend the rest of my time not worrying or reading about what other people are doing and just worry about staying in my own lane. That really changed the direction of my life and my career as well. I'm not going to say no, but if I were to never walk on a stage again I would be very pleased at how I ended up."
Despite the serious words, there's no way to have a conversation with Lopez without ending up in tears laughing. He's got a funny story for everything, no matter the subject. For the tale of how the secret service ended up on his doorstep after some light Trump bashing, listen to our podcast.
Abandoned by his father, a migrant worker, at two months and his mother at age 10, Lopez was raised by his grandparents. He remembers his days growing up in the valley fondly and still frequents his favorite childhood haunts like Carrillo's San Fernando and Presidente on Rinaldi.
He started doing stand up in the '80s in high school and was approached by Academy Award winner Sandra Bullock to co-produce, write and star in the ground-breaking George Lopez Show in the '90s, focusing on the Latin American community, which is still in syndication. He went on to host the Emmy Awards and co-stars alongside Edward James Olmos and Kathleen Quinlan in "Walking With Herb," which comes out at the end of April.
The comedian's perspective on life has shifted as he approaches his 60th birthday and the pandemic year has given him some therapeutic time to reflect on the past. An anchor and driving force in every aspect of his life, Benita passed away in 2009.
"When she started suffering from dementia, she'd cook me breakfast and would still make tortillas. She started getting forgetful and kept asking me 'how many is that?' Three (it was actually nine). Then she'd come back again, 'How many is that?' Four (it was actually twelve). We ended up with enough tortillas for the week. I couldn't let her stop, her cute little face when she thought she hadn't made enough. She'd just spin around and make some more. I took care of her til the end and that's all part of our journey together, using humor with somebody who was losing their ability to connect with people. It made me who I am and how to find humor in tough topics."
"From growing up trying to please everybody in every aspect of my life, and missing my grandmother as I do as the years go by, it's harder to see her. The food has been a great way to preserve the memories of our experiences in that little kitchen."
To hear more about the reboot of The Geroge Lopez show, cancel culture, memories of Mission Hills and some classic Lopez humor, tune into the L.A. Weekly podcast.