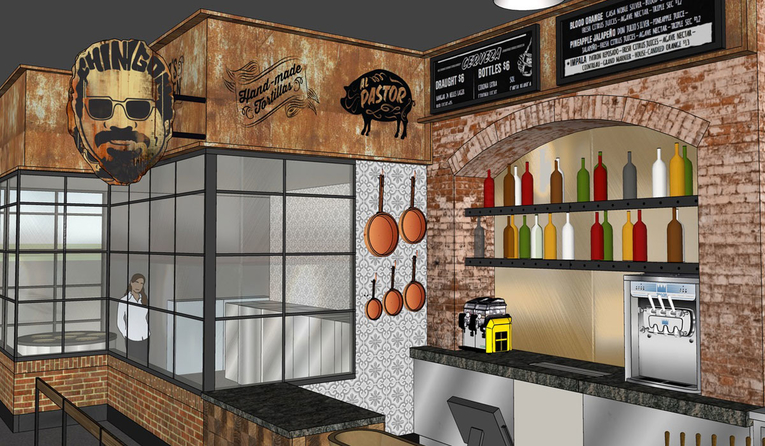 A Food Hall That Could Change the Game
The origins of food halls in America go back more than a century, and the concept has seen an increasing number of creative iterations as it multiplies at a rapid pace.
With roots in public markets that combine merchants, craftsmen, and farmers markets into one structure, these operations have morphed into locations that often mix local and artisan restaurants with specialty food purveyors. Most food halls make room for separate staff, kitchen space, management, and revenue streams for each of these restaurants and purveyors.
But one California restaurant entrepreneur is taking the model into the future with a new focus on shared services, creating a fresh format that could become the blueprint for those looking to evolve the food-hall concept across the country. "The concept of the food hall is timeless," says Michael Zislis, owner of the Zislis Group, a hospitality company that developed the 18-unit Rock & Brews restaurant chain. "But what we've done is something new."
Most autonomous restaurants in food halls share seating space and may combine forces for special events or festivals, but The Brews Hall in Torrance, California, is taking that relationship a step further by sharing not only seating, but also a kitchen, a chef, some employees, and the revenue stream. "Having a food hall under one management structure not only saves money on management and labor, but also adds control from when the food comes in to when the product goes out," Zislis says.
A 2019 report from real-estate company Cushman & Wakefield estimated that the number of food halls will rise to 450 by the end of next year, up nearly four-fold from 2016. For consumers, the halls are popular because they tend to feature restaurants "that are a little more innovative and a little more on the culinary side" than a typical food court, says David Portalatin, vice president and food industry adviser at market research firm NPD Group. The robust growth in the food hall sector is also a result of the rapidly shifting retail landscape in the U.S. In the wake of a tsunami of store closings in recent years, Portalatin says, food halls look increasingly appealing to building owners and developers, who in turn "have made it very attractive for restaurant operators to help them repurpose space."
Unsurprisingly, food-hall ownership varies. Some halls are managed by a building's landlord, while others are under the auspices of chef-led or inspired companies, such as six-location Italian marketplace Eataly or Chicago's Latinicity.
Developed by Zislis and music and entertainment veteran Dave Furano, the Brews Hall features four food concepts along with a 25-barrel brewhouse. Zislis has an ownership affiliation with all of the operations, but the restaurants in the food hall operate under separate licensing agreements. Revenue will be paid to each entity under those pacts. "There will be itemized sales support," with royalties going to each of the restaurant companies, Zislis says. "We will have one bank statement, one credit card, one general manager, one head chef, and economies of scale not done before."
The Brews Hall offers eats from George Lopez's Chingon Kitchen, a partnership with the namesake comedian and actor; Colin Cowherd's The Herd Burgers, Bets and Brews, formed in conjunction with the namesake sports broadcaster; Chicken TWILI (The Way I Like It) with a chicken-centric menu; and Rock 'N Fish Grill, a steak and fish place.
Guests order at the counters and the food is delivered to the guests at tables. These are the first locations for The Herd and Chicken TWILI, and the third units each for Chingon Kitchen and Rock 'N Fish Grill.
The brewery portion of the hall houses Buzzrock Brewing Co., which is involved with various rock-star ventures including the George Lopez Ta Loco Brewing Co. There are several taps at the breweries' 24-seat bar for customers, and the restaurants also feature bar menus. Brewing takes place five days a week. The breweries, led by a brewmaster who hails from San Diego's well-regarded Stone Brewing Co., are able to create a wide variety of suds, ranging from a tasty IPA to a watermelon pilsner.
The nearly 10,000-square-foot facility (which originally was a mechanics shop) has dozens of parking spots and seating for 65 people indoors, as well as picnic tables on the outdoor patio that will seat another 48. The building's garage doors can be opened for a cross breeze across the entire interior.
The foodservice area takes up nearly 4,000 square feet of the space, and the single kitchen—with 36 feet of hood space—is set up to efficiently supply all the food stalls. Not only will there be one head chef, but specific stations will be manned with as few as one cook each, such as a deep-fry area tasked with making all the stands' fried food, from french fries to fried chicken. The system is simple and cost-efficient, and eases up burdens on labor costs, allowing the brand to meet minimum wage requirements for staff without going over budget. "In 2019, where minimum wage is at an all-time high, we are hoping to reduce labor costs and take the idea to new markets," Zislis says.
In keeping with the growing delivery trend, The Brews Hall also has a designated area for food pickup and one designated delivery parking spot for each of the restaurants, upping the convenience factor of the concept and opening it up to audiences who may not have time to come inside for a bite or a brew.
The collaboration among brands makes sense, Portalatin says. "We will see more developments where back of the house space is shared, and even front of the house space is shared for carryout and delivery," he says. "It's all about efficiency. With rising labor costs and food costs, there's only so much margin to be squeezed out."